Full Speed Ahead for Viper Days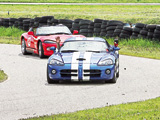 With all the uncertainty surrounding the auto industry today, it's great to know that the Viper Nation can take comfort in two things: The Viper will continue to be produced for many years to come, and the organization known as Viper Days will not only continue, it will become bigger and better.
Those familiar with the history of the Viper know that Viper Days and the Viper Racing League have been part of the Viper legacy for more than a decade. These series, founded and operated by Skip Thomas, have literally helped thousands of Viper owners satisfy their need for speed, while also teaching them valuable lessons about how to safely handle their vehicles in any kind of driving conditions.
No one knows the value of Viper Days better than those who have participated over the past fourteen years, so a few months ago; several veterans of the series approached Thomas to see if he might be interested in turning the administrative reins of his series over to a new management group. That organization, led by Rick Girard, sought to acquire the rights to Viper Days and the Viper Racing League with plans to grow the series into one of the largest most respected amateur road racing series in the nation.
Rick Girard explained, "All the owners who have participated in Viper Days have the upmost respect for Skip and everything he's done for us. After 14 years, we want to make sure that the driving and racing opportunities for the Vipers will continue for at least another 14 years. Somebody needed to step up and offer to take the reins, so I did."
Through Girard and his investment group, Viper Days will become part of a larger enterprise that will encompass not only Vipers, but other makes, as well. They have formed the North American Road Racing Association "NARRA" and will sponsor three different series designed to accommodate every level of driver skill.
The first will be the Michelin Challenge Series, which is geared toward beginner and intermediate drivers. The method by which drivers will compete in this series is "timed laps," which will judge their progress against others in their class. Second, will be the Hoosier Cup Series, which will feature Grand Touring and Grand Sport vehicles from a variety of different manufacturers. Finally, the Viper Racing League will be reserved for the most experienced drivers, who will race wheel to wheel with each other. To date, 19 Viper Racing League drivers have turned pro and raced many well known series such as the SCCA World Challenge and the Grand Am Rolex Sport Car Series.
Driver education and safety will continue to play a big role in both the Challenge Series and the Viper Racing League, according to Girard. "Skip did a great job of creating a safe environment for us to learn how to handle the most competent road racing car on the track, the Viper.
"Our updated business model will offer a wide variety of track opportunities to a diverse group of automotive connoisseurs, including other brands such as Porsche, Corvette, Aston Martin, Mustang and Ferrari" Girard continued by saying, "Many people who purchase high performance cars are intimidated by the idea of taking them to the track. Viper Days will give those folks the chance to learn about what their cars are capable of without the fear of deadly consequences."
Girard hopes that Viper Days will expand its offerings to include events for the entire family. "Our young driver program will be an ideal place for teenage drivers to learn a variety of skills such as; threshold braking, skid control and how to avoid overcorrection in the event of an emergency. We'll also include other activities such as tailgate parties, car shows, and live auctions—something for everyone."
Plans call for nine or ten events in 2009. "We're still working on venues and track dates for next year, so our schedule is not finalized at this time, however, we will be going to some of the most famous tracks in the world, places like Sebring, Mosport and Homestead." Girard said. Please visit www.viperdays.com or www.narraonline.com over the coming weeks to see our 2009 schedule and keep informed on our progress."
Girard concluded, "This series became too large for one person to handle. Even though our group is taking over where Skip left off, he will remain with our new group as the Grand Marshall of all events. Knowing Skip, I think you're going to find him wanting to return to his teaching roots. Heck, don't be surprised if he climbs into your car, turns to you and says 'Hi, I'm Skip, now let's go 120.'"