By Paul Lacey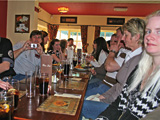 One of the most exciting experiences a Viper owner can enjoy is driving on any road in the world and suddenly spotting a Viper in the traffic. This was situation as I was on my way to the UK's first meet of the year. Travelling through roadworks on the M1 motorway at the prescribed 50 mph (converted from kph for our American audience–Ed.), I spotted a flash of red, then red with white stripes, then blue with white—wow! Being conscious of the camera-enforced speed limit, I took a chance by speeding up bit by bit and gradually caught the convoy and tagged on the back.
For those Americans who have never visited a British pub, they are a bit like having a drink and meal in your own home. Our destination—the Fancott Arms in Luton—was no exception with good home cooked meals, fine wines and especially that funny English beer. Fancote Arms was the perfect location to host our first Viper meet of the year which was superbly organized by Barry and Sam Adams for the last five years.
The strange thing is all the UK women really look forward to this event. If you have seen the movie, "The Witches of Eastwick," you will understand a circle of attractive women sitting round drinking wine and coffee. All that was missing was the caldron in the center to make the scene complete.
Meanwhile the boys were outside talking superchargers, exhausts, brakes, etc. As always happens throughout the world in many languages and whatever the car, the women eventually drag themselves from the pub into the cold to support the men. A special treat was a phone call from Tator Dodge in New York. Chuck Tator called to speak with our guests on Viper-related issues.
Our biggest surprise was a 10-year-old boy whose mother drove 75 miles after having spotted information about our meet on the Viper forum. The youngster was such a Viper nut that Neil Brown just had to give both him and the boy's sister the ride of their lives in their favorite car. Of course, giving to others seems to come naturally to Viper owners throughout the world.
Shortly after noon, we enjoyed a healthy lunch followed by more talking about the cars outside while the women gathered again for coffee. After a brief rain shower and a sprint to the comfort and warmth of the pub, goodbyes were said, kisses exchanged and we headed for home. But guess what? On the way home in the distance a couple of Viper owners spotted a flash of white with blue stripes and, in keeping with the tradition of Vipers around the world, sped up to form the caravan home.