By Bill Rodway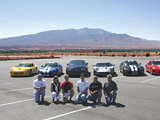 Recently, the New Mexico Viper Club organized an event with the main purpose of raising money for the Marine Corps-Law Enforcement Foundation (MC-LEF). The event was the First Annual Roadrunner Charity Fun Run in Albuquerque, N.M. More than 50 exotic sports cars participated in the poker run, where participants picked up playing cards at seven locations around town and at the final stop, played their best five-card poker hand.
[[all_article_images]]
Hand-made trophies made of engine parts were awarded to the top three poker hands, and more than 15 door prizes were given to random entrants. With the help of an additional large donation by a local business, Motiva Performance, the New Mexico Viper Club was able to raise a donation of $2,000 to be given to the MC-LEF. We hope to make this an annual event and we anticipate an even larger donation next year. Come and join us for this very worthwhile event.