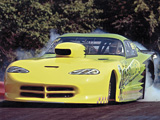 If you frequent the drag strips around Ohio and Pennsylvania, chances are you've seen the "Viperizer" roaring up to the starting line, emerging from a cloud of white smoke as Ron Siegal heats up his slicks to make a quarter-mile pass. It's a sight to see!
This beastly beauty, handcrafted for Siegal by Jerry Bickel Race Cars, can burn the quarter mile in 7.19 seconds @ 194 mph. The Viperizer's chassis is fabricated from Chromemoly tubing, the body is hand laid fiberglass. The interior is carbon fiber, while titanium and other exotic metals are used for wheels and wheelie bars to make this race car weigh in, driver included, at a remarkable 2150 lbs.
[[all_article_images]]
Incredible attention has been paid to every detail. For example check out the hand- painted tail lamps. Siegal is also an avid Mopar® collector, so when it came time for him to build the power plant for the Viperizer, there was no doubt it would be based on the legendary Mopar V8s. The current power plant is an all-aluminum 572 cubic inch V8 creation that produces nearly 1,300 hp.
The Viperizer is for the race track, but if the weather is right you might see Siegal in his 1998 Viper GTS or his Snakeskin green 2008 Viper SRT10® cruising down the road.