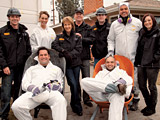 It's no secret in the Viper Nation that VCA members give their all in support of a long list of charitable causes. However, the entire world got a recent glimpse of the giving side of Viper owners, thanks to the efforts of Central California President Jerry DeYoung and his wife, Paula. The DeYoungs, through their third-generation construction company, DeYoung Properties, joined the Emmy award-winning, hit reality show, ABC's "Extreme Makeover: Home Edition" to build a new, quality-constructed DeYoung home in just seven days for one deserving family in Fresno, Calif. The episode aired on March 8.
Mary Ann Riojas and her family were understandably surprised when Ty Pennington, team leader of "Extreme Makeover," accompanied by his design team, knocked on their front door in early January and announced their home was chosen to be drastically revamped. The DeYoung Properties team went to work right away, tasked with overseeing construction on the intense, one-week build while maintaining the highest standards of quality craftsmanship, design, earth-friendly features and energy-efficiency in creating a dream home for the Riojas clan. All labor and materials for the makeover were donated by the DeYoungs and their trade partners.
DeYoung Properties was chosen as the builder for the "Extreme" project in large part because of their 30-year tradition of giving back to their Central California community. DeYoung Properties supports local schools, non-profits and community groups, in addition to its neighborhood building activities. The company donated two homes to benefit the St. Jude Children's Research Hospital in 2007 and 2008 and will donate a third home in 2009.
"DeYoung Properties' unwavering passion for their community was clear," said Conrad Ricketts, executive producer of "Extreme Makeover: Home Edition." "We are looking for 'Heroes in the Community' and both the family and DeYoung Properties are wonderful representations of our theme this season."
"We were honored to have been asked to be the builder for this extraordinary project to help change one family's life forever," said Jerry DeYoung, president of DeYoung Properties.
"What a way to begin a new year!" chimed in Paula DeYoung, executive vice president of DeYoung Properties. "To be asked to build a safe, quality-crafted home for one deserving family in one week with all labor and material donated, is the Super Bowl of home building, so we were honored to say yes."
For further information on "Extreme Makeover: Home Edition" or DeYoung Properties, visit www.abc.go.com or www.deyoungproperties.com.