By Darren Jacobs
NARRA carried on the Viper Days tradition with a successful inaugural event in February at California's Buttonwillow Raceway.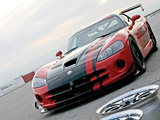 Mention the name Viper Days to almost any Dodge Viper owner and images of action-packed, fun-filled weekends spent at world-class tracks will immediately spring forth. The popular series combined the need for speed with a safe and educational environment that served as a training ground for countless VCA members, becoming a cherished institution of Viper owners around the globe.
So when the Viper legions received word that their beloved Viper Days and the Viper Racing League, founded by VCA fave Skip Thomas, was purchased by the recently formed North American Road Racing Association (NARRA) group, the collective hackles of Viper lovers shot up immediately. One question reverberated throughout Viperdom: "What would become of Viper Days?"
The answer came following the first NARRA event, held on February 21–22 at Buttonwillow Raceway Park, in Buttonwillow, Calif. The name may have changed but the song remains the same, as the Viper Nation sang the praises of the inaugural NARRA event.
"We were hoping for a double and we hit a home run," exclaimed NARRA general manager Kevin Williams. "We had great racing, the people we're happy and the new curriculum went over extremely well.
"We had close to 20 percent more in attendance than we anticipated, with just under 80 drivers. I didn't hear a negative word all weekend. They definitely bought into it and wanted to be part of it, and it was really neat that everybody was happy with it."
No less an expert than Maurice Liang, a man of whom it's safe to say knows a thing (or two) about the Viper, gave a thumbs-up to the inaugural NARRA go-round.
"The event seemed well organized and you could definitely tell they had an emphasis on teaching," observed Liang. "I'm very hopeful that it will maintain the Viper emphasis, the focus on the Viper, even though other makes can take part now as well. From what I observed at this first event, they were definitely able to keep that focus, which is encouraging."
"We're not making it a secret that we're going after other cars to increase the field," said Williams. "I think the crowd enjoyed the mixture, with all kinds of classes out there. The people in California took the change great. There wasn't even any talk about it really. It was just like, 'Okay, the new name's NARRA, that's cool, let's go on forward, you guys are a blast. Let's do it.' They didn't even bat any eyelash about it. I was amazed at the support we received from the clubs. We couldn't have had nearly 80 cars without their help. Dan and Cathy Everts [SoCal
VCA president and secretary/treasurer, respectively], I can't say how much work they did to help us, sending out e-mails and flyers. They really pushed it. They were so passionate."
A most welcome and beloved guest was Viper Days founder Thomas, who will attend each event as grand marshal during the 2009 NARRA slate. Thomas spoke at the opening banquet to kickoff the event, figuratively handing off the baton to NARRA and aiding in the transition.
"Everybody loves him," said Williams of Thomas. "He walks around, talks to people, smokes his cigar, and he grids the race cars. He'll be around at every event this year."
The emphasis at the first event was on teaching because, as many Snake lovers have learned the hard way, the Viper, she ain't easy to tame!
"We focused on the instruction side a bit more at Buttonwillow," said Williams. "We have a whole new curriculum, a whole new staff of instructors, and it went over extremely well. We're really emphasizing techniques such as how to be smooth and how that makes you faster, different braking techniques and the mental aspect of it."
NARRA's maiden voyage received nothing but kudos from one newbie attendee, VCA Arizona member Justin Davenport, who wheeled around Buttonwillow in his 1996 Viper GTS.
"Being a novice, I was placed in the green group [beginners group] and was assigned an instructor," said Davenport. "My instructor was well-versed with the capabilities of the Viper and assisted me in how to drive in a faster, safer manner. The event was well-planned and executed very efficiently. The race group was awe-inspiring and has only whetted my appetite to advance as a driver and purchase one of those infamous Comp Coupes. Overall, I had a great time meeting with fellow Viper owners and will participate in other West Coast events in the future."
Davenport's sentiments encapsulated the bright road ahead for NARRA after its inaugural weekend—great times at the track, with even more Viper fun in store for the future!
"The people in California took the change great. There wasn't even any talk about it, really. It was just like, 'Okay, the new name's NARRA, that's cool, let's go on forward, you guys are a blast.'" — NARRA general manager Kevin Williams, on the reception by the VCA of the inaugural NARRA event.
Please visit www.narraonline.com for up-to-date schedule information.