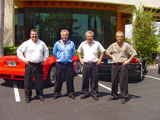 With thousands of Vipers registered in Florida and several extremely active Viper Club of America chapters throughout the state, it's probably not all that unusual to see caravans of Vipers cruising the countryside. The odds of that sight are even greater around the Naples area because that's where the four Malo brothers (and their four Vipers) reside. And if you've ever had the chance to visit their restaurant in Naples or meet them in person, you know that the Malo brothers bring the party with them.
The four Malo brothers—Flo, Neim, Jim and Solli—like nothing better than to get away on weekend trips that take them from the northernmost part of Florida all the way down to Key West. And the four Vipers they drive make sure they command attention across the state.
"We absolutely love these cars," said Jim Malo. "By nature we tend to be very outgoing people so the Vipers suit our personalities perfectly. How can you look at these cars and not get excited? And we drive them every chance we get."
Their restaurant—The Watermark Grille—has become known as one of the dining highlights in all of southwest Florida. And this Naples landmark (just like their Vipers) is a reflection of the Malo brothers overall attitude—work hard, play hard and don't do anything halfway.
The tale of the Malo brothers is the quintessential American success story. Flo explained, "In 1950, my father and mother (who were from Albania), escaped Communism and ended up in a Greek refugee camp. Six years later, an Albanian family in Chicago sponsored us and we were able to come to this country to begin our lives as Americans."
The father, Bato Malo, had to overcome some severe challenges in establishing himself in his new country. Flo said, "He couldn't read or write—English or Albanian. He didn't even have a driver's license."
He continued, "My father started out by washing dishes for 50 cents an hour but through hard work and persistence, he eventually ended up owning his own restaurant. That's how our future in the restaurant business was sealed."
When their father retired in 1974, the sons took over the restaurant and, a few years later, opened a nightclub in Chicago. "This was quite a wild time for us," Jim admitted. "We were booking a lot of heavy metal and other rock bands and, most of the time, the parties lasted all night. We had a blast, but the pace was grueling."
Partying with the likes of Metallica can take a toll on anyone, so the brothers decided it might be time to look into a more family-friendly business. "Naples had always been a favorite vacation spot for us," said Flo. "In the early 1990s we all ended up making the move south and started up a restaurant just outside of the city."
Their original establishment served as a testing ground for their current restaurant, the Watermark Grille. The building itself is as distinctive as the brothers as it features a number of fountains, floor to ceiling windows and a bright airy ambience that captures the spirit of southern Florida. "Over the years, we found that people prefer booths, lots of windows and water; thus the fountains," Flo explained. "These all became part of the plan for the Watermark. It's an upscale restaurant, but we're kid-friendly, too. Like all of us, this place is never quiet or stuffy."
The business has exploded over the years as the reputation of the Watermark Grille has spread far and wide. "During our off season, we average anywhere from 7,000 to 9,000 customers per month. In season, that jumps to 10,000 to 15,000," said Flo. "Basically, it's organized chaos."
All this responsibility can make it difficult to find time to enjoy their Vipers, but the brothers manage to hit the road whenever they can. In fact, many of the family vacations are planned around where they can drive. "Even though the cars are great to look at, we believe they're meant to be driven," said Jim. "So it's a priority to get out on the road whenever we can."
One way to free up some time is to share the workload and the brothers make sure all the restaurant work is divided equally. Flo keeps up with all the business operations and Jim heads up the kitchen. Neim and Solli work out front making sure that all the guests have a fantastic dining experience. It's a system that might not work for some families, but for the Malos, it's a recipe for success.
Jim said, "We believe we have a very strong work ethic, thanks to our father. He always told us that it's easy to break one stick, but when you have four together, it's very difficult. That's what makes our business work—we always stay together."
(The Watermark Grille is located on 11280 N. Tamiami Trail in Naples, Fla. You can also visit their Web site at www.watermarkgrille.com.)