By George Farris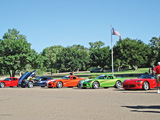 Cal Farley's Boys Ranch, located 36 miles northwest of Amarillo, Texas, was founded in 1939 by Cal Farley, a successful Amarillo businessman, civic leader, champion athlete, and humanitarian. Since its beginning, Boys Ranch has provided thousands of boys, "A Shirttail to Hang Onto."
Mr. Farley chartered the Cal Farley's Boys Ranch Foundation in 1961. With gifts from friends and organizations, Mr. Farley invested well and created a savings account to provide for future needs while allowing the organization to meet the immediate needs of the children through annual donations. With this solid financial foundation, Cal Farley's is able to operate independently without federal or state government support.
The children live in group homes and enjoy a variety of academic, vocational, spiritual and extra-curricular activities to help them become responsible and resilient young people. The current population at Boys Ranch ranges between 230-270 children, ages 5-18. Depending on the child's age when accepted, he may remain for as little as one year, or as long as 15 years.
Children are accepted on the basis of need, the organization's ability to fill that need, and the availability of space. The child must be able to function in a regular classroom setting. College scholarships and other alumni support are also available.
Boys Ranch is located where Old Tascosa stood and remains like a small town. It has housing and health facilities, a fire station, a large church and all kinds of activities for the residents. They have their own football field, baseball field, a super basketball gym and a rodeo arena. There are also several lakes on the property full of great fishing.
Tascosa was a trade, trail and cattle center. A cattle trail and mail line ran between Tascosa and Dodge City, Kan. – quite a trip! Staying true to its history, Boys Ranch has its own processing plant which helps generate revenue for the facility.
Tascosa itself has a colorful history with characters such as Billy the Kid, Pat Garrett, Bat Masterson and Frenchy McCormick walking the streets. Now, Vipers and Mopars will add to that colorful history!
My first experience with Boys Ranch came about a year ago. I was at a local coffee shop when a large Boys Ranch van pulled up and unloaded about 10 teenage boys. My first thought was: "Here we go!" However, the kids came in, made their orders, loaded back on the van and were the most polite and respectful teenagers I have seen in a long time.
From that time on I wanted to do something special (thinking Vipers) for these kids. I got in touch with Lance Green, the founder of the Amarillo Area Mopar Club, and we decided to join together for a cruise to "Old Tascosa" and give the kids a show and some rides.
My contact at Boys Ranch was Danyel Parkhurst who was extremely helpful and enthusiastic in setting up the event. In July, five Vipers and four Mopars met on Amarillo's west side and began the cruise to Boys Ranch. It was a beautiful, warm day and the scenery along the way was quite nice, although, at times it went by pretty fast.
When we arrived at Boys Ranch we were greeted by counselors Allen Wilson and Dusty Dupree plus lots of excited kids of all ages. The Vipers and Mopars were parked "car-show style" allowing the kids to get a good look and ask questions.
Finally, the real fun began as rides were given to all who showed up. Believe me, a lot showed up. The rides lasted for about two hours until the Viper and Mopar drivers yelled: "No Mas!"
We plan to make this an annual event and next year expect a lot more cars. Special thanks to Viper pilots Bunky Preston, Austin Preston, Larry Stallings and Steve Bodner and to Mopar drivers Brittany Reese, Bill Pittman, Casey Pittman and Doug Gallier.