Mary's Excellent Adventure
By Roger Meiners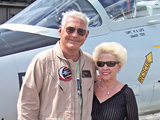 "You have to meet Mary," said practically everyone I met at the PA–WVA Viper Meet at Carlisle's All-Chrysler Nationals this summer. The most vociferous about it was Terry Bosserman (but I learned later that he is always the most vociferous—especially about Vipers … and about Mopars, too).
"OK, fine," I answered, thinking I'd get to it just as soon as I studied the details of all five hundred thousand Mopars that were on display at the fairgrounds. The show was just down the road from the Carlisle Indian School where Jim Thorpe made that "All-American" movie. Remember Jim Thorpe? He's the guy who set all those Olympic track and field records back in the days of your grandfather. He actually didn't make the movie. Hollywood made the movie about him. They called it Jim Thorpe—All American. I bring him up because he was like a Viper; tough, strong, fast and all-American.
Anyway, when I got back to the "Viper Compound," smelling like rubber smoke—I watched the burnout competition—the clamor about Mary continued, and they pointed out her ACR-look-alike 2009 red Viper. Then I learned that Mary had two Vipers and one of them showed 120,000 miles on the clock! So now I was getting excited.
I had to meet her.
As I approached the car, I caught sight of a very elegant, beautiful blonde (see photos) who turned out to be anything but "blond" (in the sense of those disrespectful jokes about fair-haired females). Indeed, she is one of the most interesting people I have ever met.
Her name is Mary Petitpren and she hails from Georgia, by way of a long residence in New Orleans that ended with Hurricane Katrina (she wasn't there, but her car was in the garage. She did not get in to see it until three months later. The car was not damaged).
A widow, Mary was married to George Petitpren, an aerospace engineer, with whom she traveled widely, living in those parts of the country where he was employed. He passed away a few years ago of pancreatic cancer, just after she purchased a Viper and joined the Viper Club. Mary coped with the help of a Viper Club member—Bob Kocur of St Louis—who contacted her when he heard the bad news on the Forum. "He offered to talk to me any time, day or night, and I took him up on it," she said. She called frequently during the depths of her sorrow and received solace and advice on the stages of grief she endured. He encouraged her to do the things she wanted, and not to just stay home. "I am following his advice." "The Viper Club is filling my life," she says. "I want everyone to know what an impact he and the Club has had on me." She has never met Kocur and wonders if he is still in the club.
Mary told me that she has driven over 200,000 miles in the three Vipers she has owned, including, "A 2000 GTS (which I still have), a 2004 SRT10® (convertible, sold in December 2008), and a 2009 SRT10 coupe, my DREAM CAR (purchased in December 2008)." She can boast of having more miles than anyone, male or female, behind the wheel of a Viper. We believe her. She has no other cars, by the way.
Mary's major contribution to society was her 42 years as a school teacher. "I demanded respect and attention from my students," she said, "and I got it, though it usually took six weeks to get the class acclimated to my regime." One can only imagine the struggle that went on in her classroom. Mary can recall only one student in her entire teaching career with whom, through no fault of her own, she could not connect. She spoke with sadness about his unfortunate situation that prevented any chance for learning.
During our conversation, I discovered that Mary was planning a visit to Detroit, so we made tentative plans to meet, and perhaps meet my wife, Katie, whom I think is a lot like Mary.
A few weeks later I was at McLaren Performance Technologies, Inc., in Livonia, Mich., near Detroit. McLaren designed and developed the new Viper V-10 engine that is currently in production. Known as McLaren Engines in the late 1960s, this company built all the engines for the McLaren CanAm and Indy cars, and also developed the Buick Indy engine as well as a series of BMW racing cars in the 1970s and 1980s. I was with just-retired McLaren CEO Wiley McCoy, positioning a dozen rare and famous McLaren and BMW racing cars for display at McLaren's 40th Anniversary event, to be held the next day.
The phone rang. It was Mary. She had just arrived in Detroit. Before she could say much of anything, I held the phone and, thinking of Mary's beautiful Viper, asked Wiley if he would like to display it at the big event the next day to highlight McLaren's most recent engine success. His face immediately lit up and he said, "Yes." I knew that McLaren did not have a Viper in the show.
"Would you like to go to a party tomorrow?" I asked Mary. After a few minutes I convinced her to consider it, and the next day there she was with her beautiful red and black machine, parked near three bright orange 1970s McLaren racers, including the 1971 CanAm championship-winning M8F and the 1974 winner of the Indianapolis 500. The latter car's driver, three-time Indy winner Johnny Rutherford, was there and Mary met him. She also met retired race driver Don Devine, owner of the 1972 McLaren M20 CanAm car. Many other drivers and former race mechanics came by to meet her—while I virtually abandoned her to carry out my duties for the 40th anniversary reunion.
Later that day, I touched base with Mary to apologize for leaving her to herself for so long. She asked if I was going to the Meadowbrook Concourse the next day. So we went together and I got photos of her with those same McLaren race cars, on display to continue the 40th Anniversary celebration.
These events were only the tip of the iceberg in Mary Petitpren's Excellent Adventure. She also took a plane ride in her brother Steve Harvilla's Piper Tri-Pacer, got her photo taken with ex-Chrysler President and Viper proponent Bob Lutz (who parks his fighter plane near the Piper). She also visited and toured the Viper plant and Viper Headquarters at J.R. Thompson Company.
"My Viper Experience this summer was more fulfilling than I could have ever imagined," she said. "The McLaren 40th Anniversary and the Meadowbrook Councours d'Elegance. Wow! How privileged I feel."
She was grateful for the visit to J.R. Thompson Company, "…having a tour of the facility by a most gracious gentleman, Bob Mason, Managing Editor. I know he took time out of his busy schedule to be so accommodating."
"At the Viper Factory tour, I felt like a celebrity," she said. "Melissa Holobach, Plant Manager, arranged for my visit, thanks to Herb Helbig. The tour guides, Janet and Rick, answered many of the questions I had regarding the production of the Viper. They even opened the 'Viper Store' for me so that I could take home some memorabilia. My aim was to get a picture of my Viper in front of the plant. They did that for me." She sent a few of the photos—one is published here.
Mary was most excited about meeting Bob Lutz, "The gentleman who said, at the conception of the Viper in the early '90s, 'Build it … NOW!' I thanked him for being the driving force in the birth of the Viper for myself and all VCA members. He said that the car was built for car enthusiasts such as Viper owners. What a remarkable person! It was a humbling experience meeting a man so distinguished and charming." (Not unlike Mary, we would say—distinguished and charming).
Mary went on to describe her travels so far this year: "I had the good fortune to meet the following celebrities this summer: Stan Wilson, who demonstrated the difference between my Viper and his Challenger (I must say it was rather exhilarating) … Maurice Liang, an icon in the Viper Community (Tail of the Dragon Event in May) … Herb Helbig, a genuinely amicable and intelligent gentleman (Carlisle Event) … Melissa Holobach, a very accommodating young lady … Don Devine and his beautiful race machine … Bob Mason, a soft spoken, intriguing gentleman … Bob Lutz, a monumental symbol of accomplishment …" She also mentioned me with some kind words.
As we go to press, Mary is driving to Niagara Falls with the Illinois Viper Club, by way of Detroit, where the group will visit the Chrysler Archives and car collection. Maybe I will finally introduce Mary to my wife. Or then again, maybe I won't.