By Lance Kouchi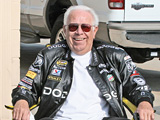 Like a single drop into a still pool of water, the same rippling effect happens when the keys to a Viper hit your open palm for the very first time. Waves of energy radiate outward and quickly become entwined with others that share a similar fortune. That is what draws and bonds the Viper Family together.
Dave Cawthorne spent 32 years as an international captain piloting 747s for the Flying Tigers. If he wasn't in the air flying, he was with his wife, son and daughter in their SSC Saleen racing at various track events. Dave eventually found himself in his retirement years and purchased a brand new 2002 Race Yellow Viper GTS. The keys hit the palm of his hand and he sent waves across the pool. Armed with years of experience and a creative desire to tweak and improve each and every "weak" point in the Viper, Dave started developing replacement and upgrade parts for the Viper.
He found himself back at his favorite track, Willow Springs International Speedway, testing parts on his own Viper. He engineered a way to adapt the fantastic SRT10® brakes to the early Vipers and quickly became known as "Big Brake Dave." He shared his knowledge with everyone, always providing helpful information, and treated others like long lost friends. He would say, "I build this stuff for me," but the reality is that he did it for all of us. He did it because he truly loved the Viper and interacting with other owners.
I met Dave in 2005 and will always remember his warm greeting to the club which made me feel very welcome. He rarely missed a club event and always played an integral part in some way. Whether it was organizing an event, mapping out a cruise route, or leading a long line of Vipers through the San Diego back roads, he always found a way to contribute. His energy was contagious and it drew people in. Over the last four years, we shared countless meals, e-mails, phone calls and laughs, and put over 15,000 miles on the odometer together. He was a true friend and a big part of my family. While I was lucky enough to know him face-to-face, there are many people in the Viper Nation that shared the very same vicarious friendship by reading and interacting with him through his posts on the Viper forums. His waves of energy traversed all distances.
He closed out 2008 with another Member of the Year award and was ready for another full year of events in the Southern California Club. In spite of not feeling 100 percent health-wise, he coordinated the first club cruise of the year in January, provided technical advice at our Tech Day and took up his position trackside watching over all of us at NARRA/Viper Days in February. He still wasn't feeling any better when the Western Zone Rendezvous in Las Vegas rolled around in March, but nonetheless, he was there helping out and leading us around the Las Vegas Speedway road course. As soon as he returned home from Las Vegas, his doctor put him through a series of tests, and determined that he had colon cancer …
He calls me at work and instead of the usual, "Hey dude, what's going on?" I hear a quavering voice shudder, "Bad news … I've got cancer." It was a solid blow to the mid-section. As hard as it was to hear, it was even harder over the coming weeks to sit and wait, hearing his voice deteriorate, and not be able to do something to just make it go away. As word spread, everyone shared the same desire to do something, anything.
So the Viper Family far and near rallied to show support for our friend by "stacking the deck" in his favor. Playing cards with well wishes were sent to his house from members all over the Viper Nation as well as numerous "get well soon" posts on the VCA forums. He felt our waves of energy, but his body was losing the battle from within. In a final outpouring of support, over 30 Vipers and other cars assembled in a day's notice and paraded past Dave's house. There in the garage sat Dave in his yellow track chair, his wife on one side and his Viper on the other, waving a final goodbye. One week later, on July 10, 2009, our dear friend "Big Brake Dave" peacefully passed.
A tear rolls off the cheek and sends ripples in the water … He will be missed!