Viperin' Through Michigan
By Michael Brett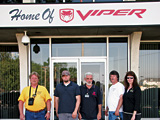 Several VCA Minnesota members made the trek to the Conner Avenue Assembly Plant (CAAP) to visit with our friends at the Viper plant. The entire staff could not have been more hospitable and informative and they assisted in making our trip a total success. Thank you one and all.
Our route to CAAP and then back home provided several interesting and unique opportunities for ourselves and our Snakes—including traveling across Lake Michigan aboard the SS Badger ferry boat. It was very interesting watching the staff load the ferry with what we thought to be far too many vehicles. Barely enough space was reserved for our Vipers as we were the last to load.
Beyond the semi trailers, we were the only ones given permission to personally drive our vehicles on board. Following a four-hour cruise, we docked in Ludington, Mich., and once again were allowed to drive our Vipers from the ship. Then it was onto Detroit for a visit to CAAP, or as we called it, Viper heaven.
We chose to follow a lengthy route home that took us across the impressive Mackinac Bridge into Michigan's UP and eventually a visit to Copper Harbor. Just outside Copper Harbor we made the drive up Brockway Mountain for an elevated panoramic view of Lake Superior and the surrounding area.
While setting up for this photo op our Vipers received almost as much attention as the view itself—maybe more. It's incredible driving machines that generate unimaginable interest and compliments regardless of the destination.