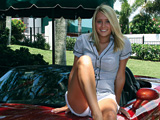 The graduation photos of high school seniors have certainly come a long way from the old days of posing in front of a white backdrop in the school cafeteria. Linda Thomas, of Sarasota, Fla., is a photographer who has been doing these photos for years, but when her granddaughter was in town from Effingham, Ill., she wanted to do something special.
She said, "We're Viper people and I wanted to share this photograph. Her name is Macy Koester and as I was doing her senior pictures, this was the photo that she chose.
I know you have a section that prints photographs of people and their Vipers and I thought you might want to use this one. She'll freak when she sees it."
Just think how much more often grandchildren would visit if grandma and grandpa owned a Viper.