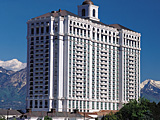 The prospects for VOI.11 looked bleak. Less than a year ago Viper was up for sale and the future of Chrysler Group LLC was clouded, to say the least. Fast forward to the present. Chrysler's heart is beating strong after the merger with Fiat, there's a new sheriff in charge of Dodge that just loves the Viper, and—drum roll, please—Viper Owners Invitational 11 (VOI.11) is a go, ready to blast off in Salt Lake City, Utah, on Sept. 30–Oct. 3.
Unique to VOI.11 is the fact that the site was chosen by the VCA board, not the manufacturer. Criteria used by the VCA board to choose the VOI.11 venue included an inexpensive location, a location not previously visited, premier hotels with the ability to accommodate 1,200 Viper fanatics, an excellent track facility and an attractive route for the scenic cruise. The club looked at many options, including new sites such as Chicago, Denver, Seattle, before settling on the final destination. Perhaps the greatest attribute of Salt Lake is the amazing track facility, Miller Motorsports Park (MMP).
"We looked at Salt Lake City," said National VCA President Chris Marshall. "It wasn't high on our radar, although it's been suggested in the past … simply because of the track facility. MMP is one of the most famous tracks in the country. I believe it's the longest road course in the U.S. at just under four-and-a-half miles long. The gentleman who designed MMP actually said he designed it with Viper specifically in mind, which is why it has a very long straightaway and great sweepers. MMP is absolutely gorgeous, and we have the run of the entire facility for three days."
The lineup at MMP is action-packed and impressive. Along with the always popular autocross and road course setups, attendees will have access to a full blown go-kart track as well as an off-road course. And for a special treat, Viper owners can also watch the pros compete on the MMP road course in their Viper Competition Coupes. "We have paired up with the folks from World Challenge and SCCA Pro Racing, and they will be having their final race of the season at Miller Motorsports in conjunction with VOI," Marshall revealed.
Expect Chrysler Group LLC and Dodge to have a sizeable presence at the event. Friend of Viper and new Dodge Car Brand President and CEO, Ralph Gilles, is so dead-set on attending the Salt Lake bash that he plans to fly in to VOI on Saturday from Paris, where he'll be attending the Paris Auto Show. "As with all VOIs, we expect Chrysler to participate and bring some interesting cars to the event," added Marshall. "You just never know what they might bring. I'm sure we'll get to check out a few Fiats."
Beautiful Park City, Utah, is tentatively scheduled as the route for the scenic cruise. And as in VOIs past, a very special VCA Raffle Car will also be up for grabs. Teases Marshall: "The last raffle car of 2010 will be at VOI."
As for those members of the Viper Nation who like their drinks a bit on the "spirited" side, feel free to imbibe without restriction. "Salt Lake has come into the mainstream to boost tourism," said Marshall. "The liquor laws are basically the same as they are anywhere else. For those who would like to enjoy a round of drinks during the evening hours, they will definitely be able to do so any way they want."
When it comes time to lay down their weary heads, Salt Lake boasts first-rate accommodations for Viper owners. The five-diamond Grand America numbers 775 guest rooms and suites, while sister hotel Little America, located just across the street, contains 850 rooms and 23 suites. The elegant ballroom at Grand America has more than enough size to accommodate the many Viper banquets.
With so much on tap at VOI.11, you might think registration fees will increase. Not so, says Marshall, who hopes the opposite occurs.
"Our goal is to make the event much less expensive for attendees than it has been in the past," Marshall stated. "Our goal for this particular VOI is to have registration fees under $700."
World-class facilities, an action-packed slate of activities and four days of fun-filled camaraderie with like-minded Viper enthusiasts, all for $700? If you're thinking, "Where do I sign up?," then you're in luck. Visit www.viperclub.org for more information on the can't miss Viper party of the year.