By Jason Mattinson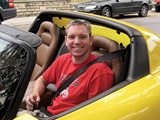 Greetings Viper Nation! I am beyond excited to finally be a Viper owner and a member of the VCA. This past September I purchased a yellow 1995 RT/10 and have loved every minute of it. The Viper has been my dream car as long as I can remember so I wanted to share my story with VM.
Back in the early '90s I remember getting several car posters to hang in my room. One was a Ferrari and the other was a Viper; both red. I didn't know it at the time, but this was the beginning of my Viper journey. A few years later I saw the blue and white GTS coupe for the first time. This was a major turning point and my obsession would only begin to grow.
I started out small by collecting scale models of the Viper in various colors. Then I stumbled upon an issue of VIPER Magazine in a bookstore. I purchased it on the spot and read it from cover to cover immediately (Ironically, it was the fall 1998 issue that had a yellow RT/10 on the cover.). Two years later I signed up for a subscription. I received a red Sneaky Pete key chain with my first issue.
About this same time I turned 16 and earned my driver's license. I begged my parents to let me get a car with a manual transmission. My reason was that I wanted to be able to drive a stick in case the opportunity ever arose to drive a Viper. Through a weird twist of events, my dad promised that we could go "Viper shopping" if he had a good year at work. The year ended great and my dad kept his word; we were off to the local Dodge dealership.
They let us test-drive a red 1994 RT/10. I then built up the courage to ask my dad if I could drive it. At best I was hoping for a big parking lot so that I could say that I actually drove it. The day got even better when he let me take it out on the roads for a few miles. The dealership wrote up the paperwork but we did not buy the car. My dad made it clear that my education was more important. I kept that paperwork to use as motivation for future Viper ownership.
With the help of my parents, I made it through college and into the working world. I kept the Viper as a goal the entire time.
Finally this past fall I was in the position to purchase one. I took that Sneaky Pete key chain I had been saving for eight years so that I could finally add Viper keys to it. Then I hung the "No Parking except for Jason's Viper" sign in the garage. The sign was a gift from my grandparents from several years back that I had been waiting to hang.
Even though my road to Viper ownership spanned nearly 15 years it was well worth the wait. I cannot thank my family enough for helping me through school and teaching me the value of hard work and going after your dreams. I also need to thank my wife for being very understanding of my Viper obsession. We purchased the car only six weeks after tying the knot. And one final thanks goes out to the Viper community. Many people have helped to answer all kinds of questions before and after I made the purchase. I am very grateful for the help and hope that I can give back to the community to show my thanks.