By Darren Jacobs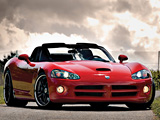 It's fitting that the Winter 2010 Parting Shots column features VCA member Andrew Wheeler. The former Navy serviceman is known for shots of his own—witness his dazzling Viper pictures displayed on this page.
Wheeler recently ended 10 years of active duty serving with the United States Navy Band, Washington, D.C., also known as "The World's Finest." During his years of service, Wheeler performed at the White House, Pentagon, State Department, Arlington National Cemetery, and the White House Visitors Center in Washington. Audience members included Presidents Ford, Carter, Reagan, Bush, Clinton, W. Bush and Obama. On the somber side, Wheeler also performed over 1,300 full honors funerals at Arlington National Cemetery for fallen shipmates.
Wheeler, who has had his work published in automotive magazines, now focuses on photographic pursuits—which, for some reason, currently center on the Dodge Viper. Perhaps it's because Wheeler just purchased his first Viper, a 2003 SRT10,® in March 2009 while still serving with the Navy. Wheeler quickly caught full-blown Viper fever. Unfortunately, the newbie Viper owner, still serving with the Navy, was scheduled to embark on a 30-day concert tour around the nation just two days after buying his Viper. Needless to say, the now-Snakebit Wheeler lamented leaving his new "baby."
"Believe me, it was all I could think about the entire trip," says Wheeler, who recently moved from D.C. to Houston, switching from the Virginia/Maryland VCA Club to the Houston VCA Club. "I had finally found a way to purchase my dream car, and then I was gone."
The trip didn't stop Wheeler from making modifications to his SRT10, in his words, "right out of the gate, as soon as I got on the tour bus! By the time I returned home from the tour, Alain at Modular Concepts had a set of carbon fiber-faced 19/20 wheels sitting at my front door, wrapped in a nice sticky pair of Nitto Invos."
Wheeler also lowered his Viper with a set of Eibach springs, front and rear, and added a Corsa Cat-Back™ exhaust, which he installed in his garage, as well as a K&N intake. He also added a MGW short shift knob, a set of Lloyd's car mats and real carbon fiber interior trim. Another new edition on the way is a carbon tonneau cover.
With his service to the country complete, Wheeler has wasted no time in documenting his new love on film (or should that be pixels?), as his amazing Viper photos illustrate. He may have found a new role as an official photographic correspondent for VM. Keep that camera clickin', Andrew!