Vipers Put on a Show in Branson
By Tim Wollesen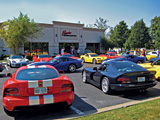 The city of Branson, Mo., is famous for its family-oriented shows and entertainment. So what could be more fun for the family than a Viper cruise through the middle of America's heartland?
The journey started in Springfield, Mo., as Viper owners from 10 states met at Premier Sports Cars, a dealer of exotic cars who also happens to be a huge supporter of the VCA. Altogether, we had 38 Vipers along with an assortment of other supercars such as a Lotus, a Shelby GT350 and two Acura NSXs. Along with the 81 pre-registered guests, there were many others who, seeing the event as they drove by, chose to join us for the car show and the tasty lunch provided by our friends at Premier.
Around 2 p.m., the entire group pulled out of the Premier lot for a scenic cruise along the back roads of the Ozarks. Our destination was Branson, more specifically, the Chateau on the Lake resort, which overlooks Table Rock Lake.
En route, drivers and passengers participated in a scavenger hunt game, identifying landmarks and answering questions about sites they spotted along the way. The answers were collected and a drawing was held the next day to hand out some cool prizes.
On Saturday evening, the group gathered on the Branson Belle showboat for a cruise of a different sort. During our trip around Table Lake we enjoyed a wonderful dinner and three different shows.
The next morning we met in one of the chateau's banquet rooms for our prize drawing and an all-you-can-eat breakfast. The highlight was a question-and-answer session with our new VCA president Chris Marshall and our favorite Viper expert, Herb Helbig, also known as the "Grailkeeper." After answering all of our questions, Herb offered to sign autographs and a long line soon formed.
I just want to thank Premier Sports Cars for their generous hospitality and Herb and Chris for joining us during our weekend of driving and cruising fun.