By Mark Giannotta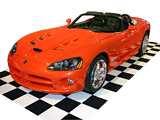 The marketing folks at Dodge are always doing research into what kind of person purchases a Viper. Here's the latest demographic profile of the typical Viperholic:
• 96% male/4% female
• 45 years old
• $173,000 annual income
• 44% college graduate
• 62% married
• Primarily executive/entrepreneurial
But this doesn't tell the whole story. Here are VIPER Magazine's observations as to what comprises the conventional Viper owner:
Shows strong aversion to stop signs, red lights and speed bumps
Prefers to drive in the company of other Vipers
Feels national speed limit should be 120 mph
Disdains any vehicle with less than 500 hp (unless it's a Gen I or Gen II Viper)
Avoids any hobbies or pastimes that don't involve driving
Experiences frequent interaction with law enforcement officials
There are also physical characteristics by which you can identify a Viper owner. They often will unconsciously move their right arms in a six-speed shifting motion. Their left leg will be visibly more muscular than their right due to a clutch-based exercise program. Their eyes will be wide open in a perpetual state of excitement. And they'll be constantly smiling.
And if the marketing people focus on the more traditional demographic measurements, the staff at SRT® understands the more visceral appeal of the Viper and strives every year to make sure there's significant movement in the Viper drool meter.
For 2009, the Dodge Viper SRT10® offers the outrageous power the Viper Nation has come to expect, with its 8.4-liter 600-horsepower V10 engine and its blistering acceleration—0-60 mph in under four seconds and 0-100-0 mph in the low 12-second range.
Get in the driver's seat, look down the hood and you'll get a glimpse of the large, efficient scoop for air induction and functional hood louvers to facilate cooling and front downforce—and it looks pretty cool, too. Your friends at SRT have also retained Viper design hallmarks, including deep-cut side scallops, swept-back fenders, lowered hood lines and the signature Dodge crosshair grille remain.
"With the 2009 Dodge Viper SRT10, we're carrying on the proud tradition of very powerful artillery for sports-car enthusiasts," said Kipp Owen, Director–SRT Engineering, Chrysler LLC. "With 600 horsepower, 560 lb-ft of torque and 0-to-60 performance in less than four seconds, the 2009 Dodge Viper SRT10 remains the benchmark for the ultimate American sports car." Which is the corporate way of saying this thing hauls ass.
WHAT'S NEW FOR 2009
The 2009 Dodge Viper SRT10 remains available in two body styles—ragtop and hardtop. Four new exterior colors
will be introduced throughout the 2009 model year—Anaconda Green Pearl Coat, Graphite Metallic Clear Coat, Viper
Bright White Clear Coat and Viper Race Yellow (resurrected). Furthermore, Silver will be available on VOI-X editions only. Dual, painted hood stripes continue to be an option with six stripe colors available. With a total of 11 exterior colors, six stripe colors and four interior choices, customers have more than 130 exterior/interior combinations to choose from.
Several exterior differences exist between the 2009 Dodge Viper SRT10 Roadster and Coupe. In fact, the only body panels the roadster and coupe share are the front fascia, fenders, hood and doors.
The Dodge Viper SRT10 coupe's hardtop with its "double bubble" styling makes it even more torsionally stiff than the roadster (which will come in handy when you're tracking this baby). The 2009 Dodge Viper SRT10 Coupe offers downforce and high-speed stability with its sloping roofline and deck lid spoiler.
Plus, the Dodge Viper SRT10 coupe has an additional 6.25 cubic feet of trunk space over the Viper SRT10 roadster, for a total of 14.65 cubic feet. Granted, trunk space is not why you buy a Viper, but isn't it good to know that your golf clubs will fit comfortably inside?
And if you're a Gen I or Gen II owner, you may not have had an opportunity to enjoy one of the true pleasures of the new Viper—namely, the red push-button starter. As designer Ralph Gilles said when this innovation was introduced in 2003, "Introducing a start button was exciting for us. It's as though starting
the Viper requires a 'commitment' from the driver."
For those with a discerning eye for interior design, four cockpit colors will be available in 2009: black, black/red, black/blue or black/medium slate. A choice of bezel finishes on the center instrument panel and console adds to the increased level of customization.
MUSCLE MASS
Electric and hybrid cars are great, but the Viper is always going to remain true to its roots, which means for 2009 the Dodge Viper SRT10's deep-skirted V10 aluminum block will still generate a whopping 600 horsepower and 560 lb-ft of torque. Take that, Volt.
The V10 engine features some of the most sophisticated hardware around. For example, it has cylinder heads equipped with Computer Numerically Controlled (CNC)-shaped combustion chambers and ports, larger valves and Variable Valve Timing (VVT) with award-winning CamInCam® technology.
The VVT application used in the Viper SRT10 electronically adjusts when the exhaust valves are opened and closed according to engine speed and load, allowing the engine to "breathe" more cleanly and efficiently.
The SRT10 V10's two-piece intake manifold combines a cast-aluminum lower plenum with smooth runners for better air flow, bolted to a die-cast aluminum upper plenum. The air-cleaner box with a low-restriction filter sends air through dual electronic throttle control modules into the intake plenum.
Within the cylinders, pistons are equipped with large-diameter floating pins in bronze bushed rods for high-load capability. The forged powder-metal connecting rods are secured with aircraft-quality fasteners for increased fatigue strength.
Engine lubrication is managed by an oil pump and a swinging oil pickup adapted from the Viper Competition Coupe engines, to improve oil pressure in high-rpm and hard-cornering conditions.
Spent gases exit through tubular air-gap headers, which not only improve exhaust flow, but also ensure quick catalyst light-off for improved emission control. The headers' stamped stainless-steel outer shell acts as a thermal heat shield for the individual stainless-steel runners that contribute to better flow separation and exhaust tuning.
The 2009 Viper V10 channels its power through a twin-disc clutch. Introduced in 2008 model year Vipers, the ZF Sachs clutch reduces rotating inertia by 18 percent, reduces clutch-pedal effort and improves engagement feel. Transferring the Dodge Viper SRT10's power to the rear wheels is a heavy-duty six-speed manual transmission. In other words, whatever you can dish out on the road or the track, this car can take it—and come back for more.
Stopping power is another carefully developed part of the Viper SRT10 equation, with 14-inch brake rotors gripped by Brembo 44/40 dual opposing piston calipers in the front and Brembo 42/38 dual opposing calipers in the rear. This system results in a world-class braking performance of 60-0 mph in less than 100 feet.
Viper SRT10 performance is further defined by a race-bred aluminum, fully independent, four-wheel suspension featuring lightweight, high-performance aluminum control arms and knuckles, damped by lightweight coil-over shock absorbers. Power is delivered to the pavement via a Dana M44-4 rear axle and a 4-pinion GKN ViscoLok speed-sensing limited-slip differential for higher torque capacity and improved traction.
The Viper SRT10 rides on polished forged aluminum 18 x 10-inch front and 19 x 13-inch rear wheels, clad in Michelin Pilot Sport PS2 non-run-flat tires. Each tire includes low-pressure sensors in the valve stem.
Add up all these numbers and you'll come up with a vehicle that provides more power and performance (and thrills) than other cars costing two or three times as much. So we'll give one more reason to purchase a new Viper—it's the economical thing to do. Never thought you'd ever see that rationale applied to a Viper, did you?
2009 Dodge Viper SRT10 Specifications