Old Friends Reunite at Car Show—Viper Wins the Crowd
By Brian Kroger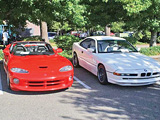 Last summer an old friend from high school, Dave, got in touch with me for the first time in 34-years. After talking, we found we shared an interest in performance cars and Dave owns a rare 850 Series BMW V12. We ended up taking our rides to a local car show. Now, I'm not really into showing my Viper at shows, but he talked me into it.
So Dave breaks the ice with the comment, "I have a V12, got you beat." I laughed and started talking about our rides. Both rides got a lot of attention
at the show. I never had such a wonderful time with an old friend. As we were about to leave the word Viper came over the loud speaker. With Dave telling me, "I think you won something." As it turns out, my '98 Viper RT/10 won favorite of show. What a nice bonus to a great day with an old friend. Dave
took the picture of our rides just before we left.