Mad Maxx wins VM's Viper of the Year
Story by Tom Leasure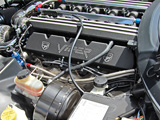 A 1999 Dodge Viper GTS nicknamed Mad Maxx is the winner of VIPER Magazine's 2009 Viper of the Year. Owner J.R. Orban of Raeford, N.C., has owned this glistening, flawless black 1999 Viper since 2001. J.R. has been taking it to the Mopars at the Rock show and pleasing the crowd since 2004.
We met up with J.R. at the 2009 Mopars at the Rock at Rockingham Dragway in Rockingham, N.C. The black beauty took top points to edge out the competition to win first place in the Viper class. This was not an easy task due to the high class of all of the Vipers that were entered in the show. When the Viper Club of America shows up at the Rock, shows can be won by half of a point, which makes judging a Viper class extremely difficult.
With only 10,360 miles on the odometer, you would think Madd Maxx would be pampered or just another garage-kept ornament, but this was not the case. Driver Kenny Weidle put Maxx through the paces with a crowd-pleasing burnout and hot laps down Rockingham's famous quarter-mile strip. Mad Maxx has a Heffner Supercharged engine that delivers 820 hp and 720 lb-ft of torque. This Viper was nicknamed just right because it is "maxed out" in performance and show! If you think your Viper can edge out the Maxx, perhaps I will see you next April at Mopars at the Rock. For more information, call Tom Leasure at (910) 392-9000.