By Alex Ristanovic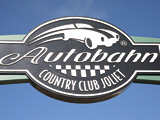 If only every event had weather like this. Under blue skies, 78 degrees, and a cool breeze, you couldn't have a better setting for one of our biggest racing events of the year. This was Viper War XIII—an annual event held by the Illinois VCA.
The setting for this Viper War was the famed Autobahn Country Club. It's one of the best tracks in the area! Speeds are moderate, the venue is safe and the asphalt is great. While experienced drivers hit the track, novices attended the class at the very beginning of the day.
The day was absolutely magnificent and without a single incident. There were three run groups total and members had quite a few sessions to run the track. Folks certainly got their fill. At the end of the day all the members got together under the tents to present the awards and say their goodbyes.
And last but not least, we crowned our newest Triple Crown winner who went home with a large glass award and the coveted traveling winner's cup! Our 2008 Triple Crown winner is Howie Frank!