By Rich Berube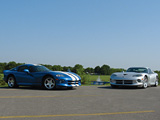 It all started in 1993 when my son Darren saw his first Dodge Viper in a magazine. He was hooked. When the 1996 GTS came out his room was filled with posters and model cars. Of course, he chose the GTS in blue with the white stripes. At that point in his life he made a decision that he would one day own a 1996 Dodge Viper GTS.
As a junior in high school, he purchased my old Toyota pickup. He had the option to buy a sportier ride, but chose not to do so. He graduated from college and took a job in the Dallas area. During this time I had come across a great deal on a Pontiac Trans Am but he did not budge and kept saving his money. In May of 2004, he called and said he had found a car in Amarillo, Texas. It was owned by a doctor and had a little over 8,700 miles on it. And yes it was a 1996 GTS, blue with white stripes. He and a friend went to look at the car. It was exactly what he wanted and he drove it home.
The following weekend was Mother's Day and he drove the car to Wichita. Wow, what a ride. We took the GTS for a spin and I was immediately hooked. There is nothing like a Viper. The torque is awesome. I was currently driving a supercharged Dodge Dakota and knew that it had to go. My search started immediately. It took several months, but in July I found my own Viper on the Internet. It is a 1999 Silver GTS. My son has kept his GTS stock but I am a performance nut and had a Roe Supercharger installed. WOW!
We are having a blast with the cars. No trailer queens here. They are driven often. Like son, like father. What can I say, we both love our Vipers!