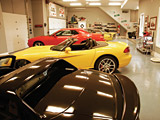 For those in the Viper Nation, perhaps no other word in the English language (or any language, for that matter) is as insufficiently defined as the word "garage." The Oxford American Dictionary offers a cold, unemotional encapsulation: "a building in which to keep a motor vehicle or vehicles." Of course, that clinical definition is technically correct. But the Viper Nation would argue that on an emotional level, it falls way, way short of the mark in explaining the bond between a Dodge Viper owner and the place in which his or her Viper(s) sleeps. In fact, it's not even close.
We know the passion Viper lovers possess for their ultra-customized Snake pits. We know from the large number of responses we quickly received here at VM shortly after the call was put out for photos and information on Viper garages. We know from browsing through an abundance of photos received from proud owners of Viper-themed palaces (sorry folks, we would show all the photos if not for space limitations). We know after reading through long, detailed descriptions, love-letter like in their intensity, recounting every unique feature and every piece of garage equipment contained in these amazing Viper edifices.
So consider the following pictorial culled from many VCA member submissions as an illustrated argument for a revisionist approach to defining a "garage," at least when referring to those of the Viper Nation. Here's one humble writer's suggestion: "a shrine or palace, used to house the ultimate American supercar. See also DODGE VIPER."
Steve Wedel
Ever wonder how an ex-president lives? If past National VCA President Steve Wedel is any indication, apparently they're livin' large, indeed!
While Wedel may have passed along the reigns of the VCA, his passion for the Viper never wavered—in fact, it grew. Wedel and his lovely wife Lynn purchased a new home in St. Louis in 2005, giving them the perfect post-presidency project—and it wasn't a presidential library! Their mission: construct an awe-inspiring facility for which to house their Vipers and other Mopar®s.
The garage is technically a five-car building but can easily welcome another Viper "sibling" inside its spacious confines, and features not one but two levels. The main level sprawls out over 2,000 square feet and boasts a bathroom and foyer, while the rear of the garage has a large covered lanai overlooking the swimming pool, allowing the Vipers to go for a dip when the mood strikes (We're kidding. We think). And when the weather outside is frightful, Wedel's Vipers are feeling delightful, relaxing in heated and air-conditioned bliss under 12-foot ceilings—which will accommodate vehicle lifts in the future, if needed. The second level is finished with dormer windows and houses a portion of Wedel's Viper collectibles and his expansive Carrera slot car set. A fully-wired sound system both inside and out and a flat-screen TV offers additional entertainment opportunities when the Wedels tire of gazing at their Vipers.
Wedel's garage space floweth over, with an additional three-car garage attached to his home, as well as ANOTHER three-car garage at his lake home! "I know that I am very lucky to have so many garages filled with so many unbelievable vehicles," says Wedel, a Gateway VCA member whose collection includes a 1996 GTS blue-with-white-stripes Viper, a 1994 R/T 10, his wife's 2005 SRT10® convertible, a 2008 ACR and other classic and modern Mopars. "I always joke with Lynn that the cars are much more expensive than our children and that she should not count on me retiring since we have so many 'dependents' needing us to take care of them."
John Hachmeister/Ralph Hearn
How do you spice up those dull Monday morning meetings? For John Hachmeister and Ralph Hearn, president and senior vice president, respectively, of JHL Constructors in Centennial, Colo., the answer was simple—turn your conference room into a Viper playroom!
The two execs and Colorado/Utah/Wyoming VCA members refer to their 3,000 square foot garage, completed at the end of 2008 and located next door to the JHL main office, as the East Conference Room. The facility was an empty office building with a back production area and loading dock before its transformation. Now in attendance at every meeting are Hachmeister's 2006 VOI.9 special edition white-with-blue-stripes Viper, 2005 VOI.8 yellow-with-black-stripe special edition Viper, his 1998 Red RT/10, and Hearn's 2006 1st Edition Coupe, blue-with-white-stripes Viper. That is, of course, when they aren't being driven.
Hachmeister and Hearn spared no expense when constructing their palatial Viper house. Features include a custom-made bar top created from the rim of a 2005 VOI.8 Viper, three Viper bar tops with Viper logo stools, bathrooms decorated with a Viper theme, the rare Viper pinball machine "Night Drivin'," and much, much more Viper swag. Garage equipment includes three wall-mounted tire racks.
The conference room/Viper den allows Hachmeister and Hearn to unwind during the stressful workday with a game of Wii bowling or golf on the big screen or perhaps a quick drink from the Viper Keg, which compliments a fully stocked full-service bar (that's one heckuva break room!). The heated and air-conditioned garage provides the perfect private spot to hold company celebrations or casual BS sessions at the end of the day.
As for the cost? Says Hachmeister, "Fortunately, we have not sat down to evaluate the overall cost of all that has been done to the garage. Honestly, we might scream if we had. But ultimately, we still continue to add to the design."
Jerry DeYoung
The garage so nice, we're showing it twice! Jerry DeYoung's Viper castle was showcased in the Summer 2007 issue of VM, but a gem like this begs for a second look.
The crystal chandelier hanging in the Central California VCA President's 2,500 square foot garage conjures up the appropriate mood for displaying priceless works of art—DeYoung's 2006 1st edition blue-with-white-stripes, No. 8 of 200 Viper SRT10 and his 2006 VOI.9 special edition white-with-blue-stripes No. 15 of 100 Viper.
DeYoung, who has attended every VOI but the first, built the garage around 20 years ago, remodeled it about a decade ago, and considers his Viper pad an "ongoing process." The garage's continued evolution is due in part to DeYoung's ever-growing collection of Viper models and memorabilia. Lining his Viper pad is a Viper pinball game, two Viper road racing video arcade games, Viper wheels with glass tops made into end tables, a Viper couch and TV, a Viper hood autographed by many superstar athletes from various sports and blow-ups of almost all of the covers of VIPER Magazine. And that's just a brief snapshot of DeYoung's collection—half of which needed to be moved prior to the photo DeYoung commissioned for the VM cover.
It's no wonder then that DeYoung opens his comments about his garage with the statement, "My name is Jerry DeYoung and I am a Viperholic." He goes on to add, "Almost immediately after taking delivery of our first Viper I fell into the Viper memorabilia collecting abyss. I have collected so much Viper memorabilia there is no way to display it all even in our nine-car garage. Some of my family and friends think I have lost it, but they all love the 'shrine to Viper' I have created in the room some people call a garage."
Terry Bagley
Sanctuary. We all seek some form of it, and lucky Virginia/Maryland VCA member Terry Bagley has found his in the form of his recently remodeled Viper hideaway.
The Richmond, Va. resident and attorney is a bit of a road warrior, traveling the country while maintaining his nationwide legal practice. He takes relaxing comfort in the 5-10 hours he spends each week among the Vipers in his garage: a 2009 SRT red convertible and a 2006 black/silver SRT coupe.
Bagley just completed his garage overhaul in March 2009 and isn't shy about putting a number on the expense involved in creating his Viper sanctum—about $11,500. Highlights include a Rotary Revolution RFP9 4-post, 9,000 lb. lift, a Premier One coating system flooring installed by Premier Garage, VOI framed prints, as well as other Viper artwork.
Bagley admits he's a bit of a car fiend, purchasing five Vipers, two Vettes, three Caddys and a BMW M5 in the last few years, drawing some loving ribbing from his family. "When my long-suffering wife first saw the lift [in the garage] she said, 'What if one Viper falls on the other?'" recalls Bagley. "I said, 'Aren't you more worried about it falling on me?' She left in silence."
At least she has her priorities straight!
John Middleton
Fresno, Calif. resident and Central California VCA member John Middleton, a doctor by profession, did some operating on his 1,700 square foot garage to ensure it possessed the proper ambience in which to display his babies: a 1998 Commemorative Viper GT-2 and a 2008 SRT10 Coupe.
The garage features a BendPak lift and several showcases overflowing with various pieces of Viper memorabilia. The pièce de résistance is the paint scheme of Middleton's Viper refuge, which sports a red-white-and-blue theme, painted stone white with GTS blue stripes. When asked how long the process took to create his Viper retreat, Middleton, like many of our respondents, replied "Ongoing." And we'll leave it at that!
Tim Waedekin
Illinois VCA member Tim Waedekin's garage doubles as a workshop as well as a home for his 2008 very violet Viper coupe. A machinist and tool maker by trade, Waedekin puts his work skills to use in his Viper hobby as well, creating Viper-related items in his Slinger, Wis. abode. The walls of Waedekin's garage, which also includes a 4-post Revolution lift, exhibit many of his Viper creations. He donates many of his items to the Illinois VCA club for fund-raising efforts.
Says Waedekin of his Viper edifice and creations, "Most people who look at it just marvel. I've had garbage pick-up people stop and walk in and just admire it. Others that drive by on the street slow down to catch a glimpse of some of the Viper plaques on the walls. My friends think I am obsessed. I think they are correct!"
Rick Martell
One of pop star Billy Joel's more famous tunes is entitled "New York State of Mind." But for one New Yorker, Rochester native Rick Martell, a slight variation of the song title would be more apropos: "Viper State of Mind."
The revised appellation would no doubt more accurately describe the thoughts bouncing around the head of Martell, a self-proclaimed "true Viper fan" and owner of a large Snake-filled garage. The ample structure houses his very impressive collection of Vipers, including a 2008 snake skin green SRT10, a modded-up 2003 SRT10, a 2001 GTS with factory stripes and a few modifications, a clean and original 1996 GTS and his first-ever Viper, a white-with-blue-stripes 1996 RT/10. "That's the one that bit me," says Martell.
Martell's family also includes a "step child"—a 2005 Ford GT. Oh well—no family is perfect!
Aaron Thornton
The striking fact about Illinois VCA member Aaron Thornton and his Viper garage is the sheer amount of time he spends in his 800 square foot Viper shrine—15 to 20 hours per week!
We can't blame him for making it his home-away-from-home with the accoutrements contained in his garage—a flat-screen TV with satellite dish coverage, surround sound, high speed Internet and, of course, his 2001 Viper GTS. The garage also features a refrigerator, high-output florescent lighting and an epoxy-coated floor. It's no wonder Thornton is a bit of a neat-freak when it comes to his Viper dwelling.
"My wife tells people that my garage is cleaner than our house," says Thornton. "When my friends come over to hang out in the garage they ask if they should take off their shoes."
For information about garage storage cabinets and tool chests, please visit our new advertiser, Moduline, at www.modulinegarage.com
Got your own "Garage Mahal" you want to flaunt for your fellow Viper owners? Send in photos, info and details of your glorious Viper garage to: VIPER Magazine, P.O. Box 2117, Farmington Hills, MI 48333-2117, or by e-mail to [email protected].