Story by Roger Meiners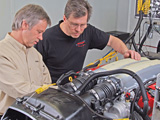 Dick Winkles of Dodge Viper engine engineering gave us the inside scoop on the new Viper ACR-X engine—how it got the extra 40 horsepower. It was more than just a hot-rod job.
The first batch of engines, twenty-five in all, was built on the line at Conner Avenue Assembly Plant, with a few significant changes for racing.
First, engineering eliminated the A/C compressor and the A/C unit from the car for weight and engine cooling considerations, which required a new, shorter serpentine belt. The Positive Crankcase Ventilation (PCV) system was also eliminated. This was a late change because the ACR-X's high braking and cornering forces with slicks upset the system.
"It was next to impossible to control the oil pullover. So we ended up getting rid of the PCV and moving the breather. We have two breather hoses that are high and centered in the covers," said Winkles.
Next, engineering substituted a forged piston for the cast piston while compression ratio remained at 10.2:1. "We worked very hard to get a forged piston that worked as well as the production-cast piston. We tried several of the aftermarket pistons, and they were down 20 horsepower from where we were (with the production cast piston) at the same compression ratio. We worked with Mahle, who is our production supplier. They had a forged piston that they offered for this engine, but it was a fairly old design, and it, too, was down a significant amount from their cast piston. We worked with them to come up with a more modern design, and it's only down slightly from the stock-cast piston, which is pretty good. So we were willing to accept that slight loss of power in exchange for the strength that we would get under severe race conditions. It was a lengthy process to get what we wanted."
"We were going to port the intake, too," said Winkles, "but it would have been expensive, and we really didn't need to do it, so we left it stock. The car is already very, very fast—640 horsepower is probably enough!"
These are the only differences from the production engine as they are built at Conner, according to Winkles.
The other big difference in the ACR-X is exhaust headers. The Viper team added 5-into-1 American Racing headers. They are a new supplier. Winkles explained, "Our first thought was to go with the tried and true tri-Y system, but we found that the 5-into-1 configuration outperformed it across the engine speed range. They were lower cost, and we got on-time delivery—an all-around better product for our customers."
Catalysts and downstream O2 sensors were removed. Winkles estimated that change netted 20 horsepower while the headers and a revised engine fuel and ?spark calibration accounted for the other 20 horsepower gained over the production ?600 horses.
The engine calibration was also customized specifically for race track use. One of the major items was desensitizing certain OBD (On Board Diagnostic) monitors for racing. For example, Chrysler Group LLC has a system that senses the throttle opening and the brake pedal state. If the driver is on both pedals at the same time, depending on the engine speed and airflow, the system will give the driver a certain amount of time in that condition and then limits the engine torque and speed to prevent a possible run-away condition. "We had been running the stock OBD calibration on the car for some time, and it was fine," said Winkles, "but when we tested at Texas World Speedway with Kuno Wittmer driving, we experienced a problem. At that particular track, he was doing a little more left-foot braking, so a couple of times he came by the pits and radioed in that the car was just 'laying down, it won't run.' We would tell him to come in and then he'd radio back that it's ?OK now (because the system times back out and gives you another shot). So this went on for a couple of laps, and we finally told him to come in anyway. We checked the data logger, and a throttle pedal/brake pedal rationality fault was showing up. We looked at the data and saw that he was left-foot braking while still on the gas for just a little more time that the system allowed. There are going to be some tracks where some drivers do that, so we opened that monitor up a little [the time allowed before shut down]."
Winkles also revised a few more parameters—the misfire monitor. "It's more sensitive than it needs to be for a race car so we desensitized that," he said. In the end, quite a number of OBD monitors were adjusted, actually. "It's really kind of a race calibration that goes into the car," said Winkles. It took a lot of time. The engineers did five test sessions: California (Laguna Seca), Florida (Palm Beach and Sebring), and Texas (Texas World and Texas Motorsports Ranch). And it took right to the end to get everything the way Winkles wanted.
All engines were run on the dynamometer so that the owners could take the cars right to the track with no worries. After run-in, engines were sealed—valve covers, intake, oil pan and front cover. Technicians also analyzed oil samples from each engine to verify that there were no issues.
The entire process took from early October 2009—when Ralph Gilles gave the go-ahead for the project—through the time of the unveiling at Laguna Seca in November 2009, and development continued until the Texas tests in late February and early March 2010. This was a very fast program, for a very fast car.
Twenty-five more engines are scheduled for the end of the model run.