By Darren Jacobs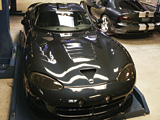 Scene: A man works quietly and intently in his garage, pruning, pinching and tending with utmost care to 200-year-old Bonsai trees. Content, the man wipes his brow, stores his tools, and, after hours of patient work in an ancient art begun in China over a thousand years ago, peels out of his garage in a Detroit-born, 21st century work of art—an 800 hp Dodge Viper.
Visitors to the awe-inspiring garage of VCA Gateway member Mike Perkins might not witness that exact scenario, but close to it. The St. Louis resident combines his love of Bonsai trees and Dodge Vipers under one impressive roof, marrying a passion that emphasizes the aesthetic miniaturization of trees with one that glorifies the ultimate amplification of horsepower.
"I've had a professional Bonsai artist working with me on my trees in the garage," recalled Perkins, president of Perkins Contracting, a 53-year-old construction company founded by his grandfather. "It's kind of weird seeing a guy working on 200-year-old trees under three Vipers."
Perkins (known as "TREESNAKE" on the VCA Forums) began his pursuit of the Bonsai arts 15 years ago. His dedication to the hobby has spurred six trips to Japan in order to visit Bonsai exhibits and to study with experts on Bonsai care. Perkins also receives instruction from a professional Bonsai teacher who travels all the way from Milan, Italy, to Perkins' garage 2–3 times each year. The hard work and devotion to all things Bonsai has paid off. Perkins currently has seven Bonsai trees ranked in the top 100 in the world, and has taken first-place in all five U.S. national competitions he has entered.
However, the 50-year-old was a late comer to the joys of the Viper Nation. He wasn't Snakebit until 2004, when he purchased his first Viper, a 2001 GTS. A quick convert, Perkins rapidly made up for lost time. His collection has grown to number four Dodge Vipers in a short span.
Ironically, Perkins' garage wasn't originally built to house his duo of diverse hobbies. The edifice was constructed to accommodate another of his toys—a 30-foot twin-engine catamaran that can reach speeds in excess of 110 mph on the water. The boat was eventually stored elsewhere, leaving garage space that needed to be filled—and Perkins knew just what to fill it with.
The year-round climate-controlled garage features two BendPak single-post 6,000 lb. lifts and Go Jack car "skates" provided by XVIPERS, for use when the Vipers need repair or need to be moved in order to make room for Bonsai pruning. The garage is also lined with common indoor Luan hollow closet doors. The doors are hung on a closet track, continuous for the entire length of the garage, enabling Perkins to slide all doors to one end or the other, or open the doors anywhere in the middle.
The doors slide back and forth instead of opening outward, holding firm to Perkins' commitment to child safety by limiting the possibility of damage to his "children" (the Vipers). Covered in a waterproof Sapphire laminate material, the doors were chosen for their durability and resistance to scratching, allowing Perkins to bathe his "kids" in the garage without concern of stray water or gunk. The doors are accented by a "tread plate" aluminum center trim cut to fit and glued into place. The trim at the top and bottom of the doors is stainless steel and custom fabricated to fit around wooden trim.
Perkins didn't skimp on amenities. The garage features stainless steel sheeting cut to fit and installed behind a stainless "restaurant style" double sink with commercial fixtures. The area is also lined with stainless steel shelves, used to display Perkins' complete collection of AUTOart 1:18 scale Vipers. A half bathroom is nearby, as well as an icebox for storing cold drinks. A Scott Jacobs VCA print also hangs on the wall.
Garage lighting consists of eight-foot fluorescent lights recessed into the ceiling, with the light focused straight down using custom bent aluminum flashing as reflectors. An extensive alarm system protects the Vipers and Bonsai trees when Perkins is away.
Like his garage, Perkins' quartet of Vipers also boasts a host of modifications. His 2001 Sapphire Dodge Viper GTS sports a diamond-back hood from XVIPERS, Autoform race fascia, front splitter and roof scoop, Forgeline wheels with BFG drag radials, Eibach lowering springs, "painted" headlights and taillights, an all forged, all "studded" billet main, 488 cid engine from Arrow Racing, Striker heads, Bellanger headers with Corsa exhaust, and a ported Roe Supercharger—and that's just a short list of the many modifications!
Perkins' 2006 Sapphire Street Serpent Coupe #1 of 1 and 2006 Pearl Slate Coupe also feature an impressive roster of mods (his 2006 Black convertible is stock—for now). Design, installation, fabrication, and powder coating work on the vehicles was undertaken by JMB Performance. A large majority of all parts were provided by XVIPERS, with custom bodywork and paintwork completed at Paul's Paint and Body.
Factor in Perkins' Bonsai tree maintenance along with the loving attention he pays to his burgeoning stable of Vipers and it's no wonder you almost have to forcibly drag him from his garage. It's a rare spare moment that Perkins does not spend tinkering with a Viper or tending to Bonsai trees.
"I easily spend two hours in the garage each weekday, and at least 12 hours on the weekend," said Perkins.
No need to rub it in, Mike. You've already given the Viper Nation "garage envy."
Got your own "Garage Mahal" you want to flaunt for your fellow Viper owners? Send in photos, info and details of your glorious Viper garage to: VIPER Magazine, P.O. Box 2117, Farmington Hills, MI 48333-2117, or by e-mail to [email protected].