Add more venom to product sales.
VIPER Magazine is the voice of the Viper Nation and the official magazine of the Viper Club of America. That makes VIPER Magazine a powerful and successful sales tool.
VIPER Magazine readers have an abiding interest in the Dodge Viper and the Viper Experience. Anything that appears on the pages of VIPER Magazine becomes part of the Viper Experience. VIPER Magazine readers are the well-established, well-compensated men and women who want to buy your product and have the means to do so.
Guidelines
Advertising in VIPER Magazine requires an insertion order or written confirmation prior to the ad close date to reserve ad placement.
Cancellations are not accepted after the ad close date.
Frequency discounts are earned within a 12-month (four issues) contract period.
All space rates are net and not commissionable.
Advertising space in VIPER Magazine is limited. The publisher reserves the right to reject or cancel advertising at any time.
Advertisers will be short-rated if the contract frequency is not fulfilled within the 12-month contract period.
Send payment and materials to:
[email protected]
800-677-4321
Reader Profile
The men and women who read VIPER Magazine have the income and the motivation to follow their enthusiasm to the ultimate degree.
VM subscribers are well known to be car fanatics (73 percent have attended the huge Viper Owners Invitational). They buy aftermarket engine components, interior and exterior accessories, vehicle care products, sportswear, travel gear and much more. These are also readers who own or operate companies and corporations. And because they typically run the show, if they aren't buying for their companies themselves, they strongly influence purchase decisions.
Some of key Viper owner demographics:
Nearly all are business executives, managers, or owners
Nearly all have annual household incomes over $250K
58% own or control a business
More than 84% of those have business fleet vehicles they control
28% of owners/subscribers have five or more personal vehicles
60% own two or more Vipers
The average Viper owner spends over $9,900.00 on parts and accessories
There have been almost 30,000 Vipers built to date
* Source: Chrysler Group LLC, 2012
Advertising Specifications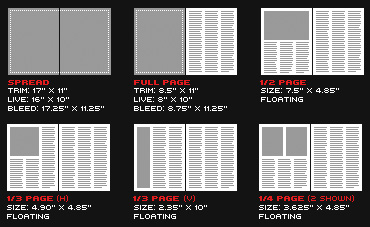 Digital Specifications: Supplied digital files are required.
Accepted File Formats: EPS, PDF, TIFF, JPG, PSD.
Resolution: All files should be supplied to scale at 300 dpi.
Fonts: All fonts must be embedded.
Colors: All ads should be prepared utilizing the CMYK color mode.
Proofs: All ads should be accompanied by a commercial-grade digital proof.
Film: Film (or camera-ready art) is not accepted.
2014 Rates
| | | | |
| --- | --- | --- | --- |
| Position | 1x | 2x | 4x |
| Inside Front Cover (as available) | $3300 | $3000 | $2750 |
| Inside Back Cover (as available) | $3000 | $2800 | $2500 |
| Back Cover (as available) | $3300 | $3000 | $2750 |
| Spread | $4800 | $4300 | $3900 |
| Single Page | $2800 | $2400 | $2250 |
| 1/2 Page | $1400 | $1300 | $1150 |
| 1/3 Page | $900 | $855 | $800 |
| 1/4 Page | $775 | $665 | $625 |
For special advertising formats and annual prepay discounts, please contact our advertising manager.
2014 Advertising Schedule
| | | | |
| --- | --- | --- | --- |
| Issue | Ad Close | Materials | Circulation |
| Spring | TBD | TBD | TBD |
| Summer | TBD | TBD | TBD |
| Fall | TBD | TBD | TBD |
| Winter | TBD | TBD | TBD |